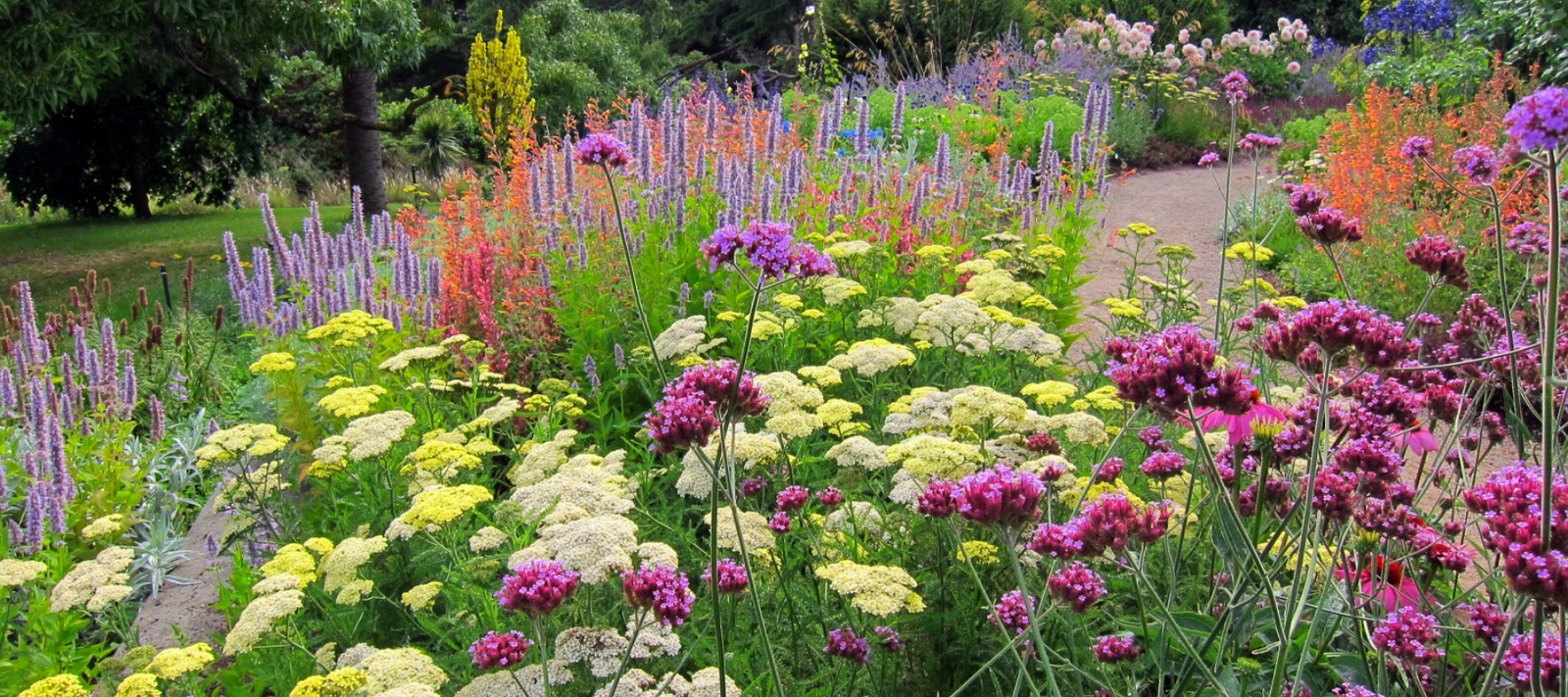 Planting up a new herbaceous border can be a daunting task. Fortunately, help is at hand as we've done all the hard work for you through our years of trialling plants and combinations. Follow our step-by-step guide to create your own version of our Heronswood perennial border.
What is a perennial plant?
Also known as herbaceous or evergreen perennials, they are plants that live for more than two years.
They can be deciduous, that is herbaceous, meaning they die back every year over autumn/winter then reshoot from the root system in spring and flower in spring/summer/autumn. Examples include echinacea and achillea. Or they can be evergreen, such as lavender, rosemary, succulents like sedums and many of the grasses.
Flowering peak
Decide which month you'd like your border to be at peak flowering and concentrate your plant selections to that period. Ideally 80% of your plants should flower in that timeframe. You can use the other 20% to make additional selections to extend the flowering times either side of that peak to stretch the season of flowering interest.
A cohesive colour theme
Next, decide on your colour theme, it could be hot colours, cool colours or pastel tones. You could opt for a single colour palette such as blues or pinks. At Heronswood, we've taken our colour cues from our surroundings, so our colour scheme reflects the blues, plums and pinks from the granite of the house and slate on the roof. Blues and silvers particularly mirror the sky and seascape. Whatever your taste, sticking with your selected colour theme will help to provide a border that has a feeling of cohesiveness.
Plant selection
Now that you have decided when you want the border to peak and what the colour palette will be, it's time to start thinking about the actual plants that will fill the space. Make a list of all the plants you like that will fit the criteria. You can use the Diggers book Complete Guide to the Flower Garden or our online plant finder to help you with this. Log in with your member details to access a wide range of search options which will show all the plants suitable for your location.
For beginners, another great resource is our 'This Goes With That' combinations in our magazines. Over the years we have trialled plant pairings and combinations, selecting only the star performers that flower together over a long flowering season.
Garden design
Once you have your plant list, you can start to arrange them. Designing your border on paper first will help. Draw up a plan of the area you're going to plant. It's good if you can do this to scale as you'll also be able to work out how many plants you'll need.
Heights
Divide your plant list into three categories according to the eventual heights of your plants, usually tall (1-1.5m), medium (50cm) and small (20cm). Situate tall plants towards the back of your border, medium sized plants in the middle section with smaller plants at the front of the border.
Flower forms
Consider the various flower forms, e.g, agastache has upright flowers, achillea has a flat plate of see-through flowers and echinacea has a large upward-facing daisy flower. Planting these contrasting forms next to each other will add interest to your border.
Foliage textures
It's worth paying attention to foliage textures too; some plants have fine feathery foliage, while others have large glossy leaves. The contrast of these textures will ensure that your border looks interesting as soon as it emerges in early spring.
Linking plants
At Diggers, we use grey and silver leaved plants along the length of the border as a link to tie the whole border together. Silver plants perform well in Australian conditions, Artemisia 'Valerie Finnis' is one of our favourites.
Planting groups
Traditionally in herbaceous borders, plants have been grouped into bold solid clumps or blocks that butt up to the next block of plants. Most recently, plantings have become more naturalistic in style, with planting groups tending to intermingle and blend together in a much more informal manner. Whichever style you adopt, it's important to use a minimum of three plants of each variety and, where space allows, increase the numbers to 5, 7, 9 etc. Planting in odd numbers gives a better effect than even numbers.
Records and edits
Every year at Heronswood we keep notes as the border progresses through the season. Photos and written notes contribute to an overall record. No doubt you'll find a new plant that you'll want to add to your border, or you'll see an interesting planting combination at a garden you visit, which you'd like to repeat at home. This is where your notes will be invaluable, especially during winter, when you're lifting, dividing and replanting your perennials long after the flowers have faded. Whether you create a new border from scratch or renovate an existing area, you'll find a wonderful palette of plants awaits you. With our guidance you'll be assured of success and a flower-filled border to delight the senses all summer long.